This system is meant for flexible control of operation modes of outdoor illumination networks in the territories of major infrastructure objects including those in the framework of the Smart City concept.
Field of application:
Outdoor illumination networks  in communities, on motorways and railroads, warehouses, logistic hubs, shopping malls and industrial facilities, recreation industry and touristic  objects, etc.
Main functions of OIACS:
Address control of operation modes for single lighting fixture (LF) or a group of LFs: turning on and off, luminous flux intensity control (dimming) with 10% pitch in accordance with the given daily astronomical schedule for the current year, with account to natural lighting variations (optional), presets (20 preset scenes), dispatcher's commands;
Automatic detection of faulty LFs and indication of their mounting places on an illumination network logic board;
Detection of unauthorized connections to illumination utility lines ;
Signalization on abnormal and emergency operation of lighting control cabinets (LCCs) ;
Equipment protection from power breakdowns, excess currents, short circuits and excessive voltage;
Remote multiple-user monitoring of process parameters (currents, voltages, power consumption, signal strength in GSM network, etc.) ;
Storage of changes log, events and settings in the database; storage of an annual schedule of operation;
Possibility to control the illumination for the dispatcher's mobile automated workstation (MAW) (e.g., laptop + GSM modem + control software);
Flexible configuration of the system, change of FL addresses without the need for re-programming of controllers in control cabinets, MAW and server software correction .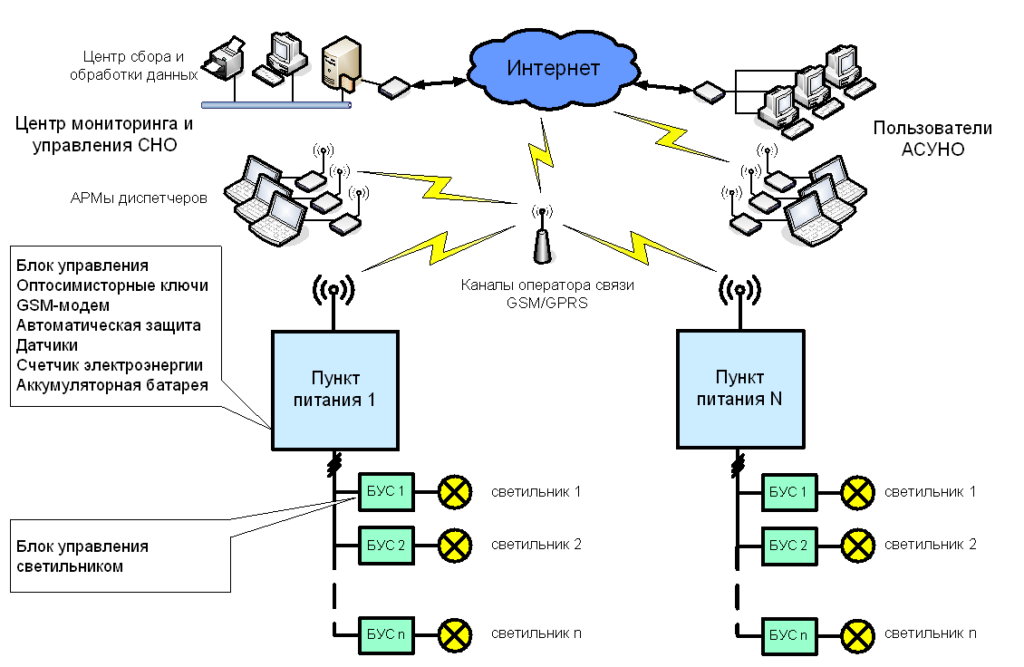 Fig.1. Structure of OIACS
Data exchange in OIACS is carried out:
Between MAW and LCC via GSM network, optionally via wire communication channels;
Between server and LCC via Internet network and GSM network, optionally via wire communication channels;
Between LCC and LF via power wires of illumination network. Number of addresses for operation modes  of LF (pre phase): 220 individual addresses, 29 group addresses, 1 common address.
Note: Each LF shall have a power supply network command receiver  (PSNCR). The PSNCR address in the system is assigned via PSNCR programmer unit.
Software and hardware (SHW) within OIACS: 
Server software, dispatcher's MAW software, LCC, PSNCR for lighting fixture (LF).   Optionally, natural illumination measurement cabinets (NIMCs), cabinets for communication equipment (CECs), and other SHW units can be used. The composition, functions, version and price of SHW shall be identified at the IACS design stage.
Note: OIACS software and hardware can also be used as bases for indoors, outdoors, or combined automated lighting control for the objects and edifices of various purposes. The OIACS structures and SHW interaction schemes for objects of various purposes are given as Fig. 2 and Fig. 3 in  Solutions section.